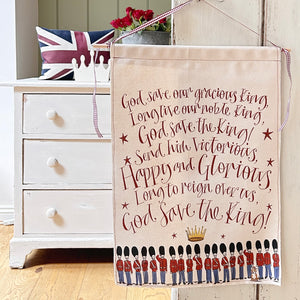 Large Handmade GOD SAVE THE KING Wall Hanging CREAM
Regular price £32.95 Sale
Three cheers for the King!
It's time to celebrate and we have created a stunning collection of adornments for your homes and gardens to help celebrate the crowning of King Charles III in truly regal style. Our wall hangings make a beautiful addition to your Coronation decor that are so special and unique and will also make a wonderful keepsake to mark the occasion.
Printed from our original hand drawn designs on cotton fabric with contrasting stitching, rustic edging with a wooden dowel and gingham ribbon for hanging.
54cm high x 44cm wide approx
LAST ORDERS FOR DELIVERY FRIDAY 28th APRIL